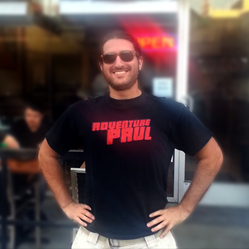 Hi, I'm Adventure PAUL and this is Work From Somewhere. My mission is to teach by example how to build a profitable online presence.
I am doing this by providing you a behind the scenes look at the decision making that goes into creating income generating websites and blogs.
I have a web development business and earn income outside of this blog. Otherwise I'd starve, as you can tell from my Income Reports! And I don't recommend that you plan on getting rich from one website either.
Creating a profitable online presence takes patience. Overnight success stories only seem that way in hindsight and from a distance.
Work From Somewhere: The Definition
What does it mean to be able to work from somewhere? For me, it means:
The ability to work at my own schedule and earn income while living anywhere in the world. The freedom of being able to balance work and responsibility with pursuing my personal hopes, dreams, and aspirations.
Where to begin…
I have three Crash Courses that are required for anyone who wants to get up to speed quickly about WordPress, SEO, and Affiliate Marketing.
If you've already got an online presence, I recommend viewing my Toolbox which is full of valuable links to information, products, and services that I use in my business.
In Conclusion
Thank you for reading and being a part of my life!
You're free to use the information on this blog to your advantage and start creating your own profitable online presence. I encourage that you do so.
If you have any questions, leave a comment below or here is every way possible to reach me.
And if you've made it this far, add me on Facebook and introduce yourself on my wall!
Love,
Adventure PAUL
Tell me something good!
comments