Update 09-27-2017: I scrapped OneLink and went with AAWP. Read more about that on Should I buy AAWP (Amazon Affiliate for WordPress) Plugin?. Or continue reading for all your options for link localization.
Update 7-3-2017: Amazon Associates Program just sent me an e-mail announcing OneLink. Read below: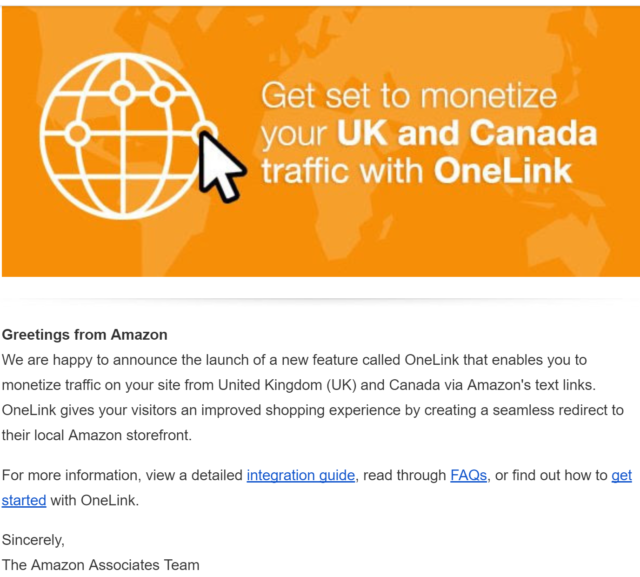 If you use Amazon's text links, you can now monetize international traffic coming to your website from the United Kingdom (UK) and Canada. Here's more information about OneLink. The article below discusses options for Amazon Link Redirection Software, none of which I've started using yet because I wanted to do my due diligence about any potential risks of using the software. I see no apparent risk of using a service that Amazon itself directly offers, and so for the time being, I'm going to move forward with OneLink. It doesn't cover EVERY country that my readers come from, but it does include UK and Canada which are two of my top countries as you can see in the screenshot below.
---
Original Article Continues Below…
As you can see from the screenshot below, a healthy portion of traffic from my website (about 44%) comes from countries outside of the USA. And much of that traffic is for articles that generate income via the Amazon Associates Program.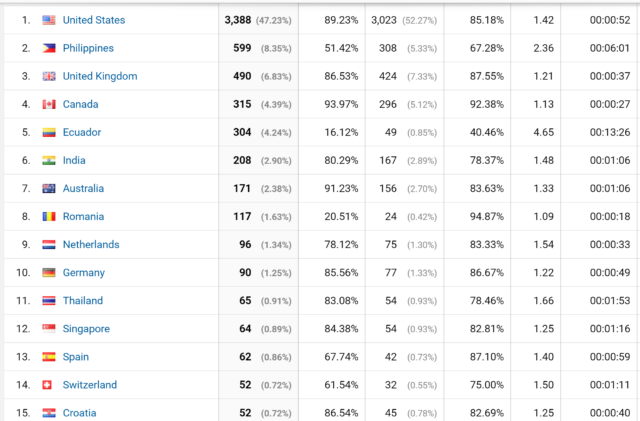 So you can see that I'm currently missing out on any revenue from visitors outside the USA because they are clicking on my Amazon affiliate links and arriving at the Amazon.com version of the website instead of their local version (like Amazon.co.uk for example). For this I need an Amazon Link Localizer (which often goes by different names). Call it intelligent links, link localization, global linking, universal linking or link globalization. It all essentially means the same thing in regards to the Amazon ecosystem: the ability to use a single Amazon affiliate link that will work seamlessly for all of the different Amazon storefronts and Associates programs.
Here's what Amazon says about this topic: Understanding the International Amazon Associates Programs
I've been hesitant to purchase any 3rd party software until I fully understood how they worked. Remember that the companies that provide these services or plugins aren't endorsed by Amazon, so they will gladly take your money for software but can't guarantee that using their software won't get you banned now or in the future.
Now that my website traffic has become a bit more substantial, along with my site income from Amazon Associates, I see that I can in theory almost double my Amazon Associates income through link localization since much of my traffic is international. The time is right to research and make a decision on which software to go with. Below is an account of my research.
List of Every Amazon Link Localization Plugins & Services I Found
EasyAzon.com – Probably the most hyped plugin available, but I take that with a grain of salt because most of the hype is from affiliates. They've got some big names using the software like Spencer Haws and Brandon Turner, both who I follow their blogs, but even so I'm always skeptical. They offer some advanced features like link cloaking (which isn't that against the Amazon TOS?) and automatically adding to cart which gets you an extra 89 days of potential commission on the item (which I freaking hate when people do because I clicked to see the item, not have it put into my cart and it adds an extra step for me as the visitor). Something seems so "Internet markety" about their website and I've been hesitant to jump on their bandwagon. EasyAzon is $67 for their Developer version.
What I've learned about EasyAzon which may be a downfall is that they use their own version of links, which are similar to shortcode. So you would have to replace all your old Amazon links with their special links. And then if you ever decided to switch off EasyAzon, you'd have to go back and change them back. Granted you could test the software on NEW articles only and see how you like it, but that defeats the purpose. If I begin to localize my links, I'd like it to internationally monetize my posts that are already ranked and have consistent traffic.
Geni.us – This is the next software I found out about. And I saw that they are actually mentioned on that Amazon link I posted earlier in this article.
A far more appealing option for most Amazon Associates is to use a third party intelligent link management service, like Geniuslink, Amazon Link Engine or SkimLinks.
Geni.us has three pricing plans: $9 / $99 / $499 per month depending on the number of clicks your website receives. And of course they include additional features with their more expensive plans. I learned that they redirect all link traffic through their servers, which is fine as long as their servers are up and running, which according to their blog, they are pretty consistent. They also work with more companies than just Amazon, which at the moment isn't a big deal for me because most of my affiliate links are either for Amazon or direct affiliate links to individual websites that host their own affiliate program and ship internationally.
Similar to EasyAzon, I'd have to replace all my previous Amazon links with my special Geni.us links. Update: See comment below this post from Jesse @ Geni.us.
This company seems legit but I'm afraid it might be overkill for what I'm looking for at the moment. They also boast some big name users like David Peterson, Pat Flynn, Ryan Holiday, and they even say Niche Pursuits (which I thought Spencer was using EasyAzon? has he switched or does he use both on different site?) However, I'm a fan of doing things the right way from day one even if it costs a little more to get started as it often pays off in the long run.
They offer this plugin called Amazon Link Engine for free, which automatically localizes your Amazon links (only without inserting your affiliate code). This is great for your visitors. Even if you don't earn a commission, at least your international visitors are happy because they land on the Amazon site they need to make a purchase. Although I can't imagine the need for it when you can just spend a few bucks on software that does the same job and also lets you earn. I'm thinking it's just a free lead gen product to bring your attention to Geni.us from the WordPress Plugin marketplace.
Flovidy.com – Stan from Flovidy e-mailed me the following:
Hi Paul,

I just came across your website and found the list of ———-. Great list! The ———- looks great.

If I buy ———-, I'll definitely make sure to click your affiliate link to show some appreciation for your work. I was visiting your website from the UK and got sent to the USA Amazon store when I clicked on the Amazon link. It looks like you are not using a localizer for your Amazon links. I know a few people that are earning some great beer money just from displaying localized links.

In case you don't know, a link localizer changes the Amazon affiliate links based on the location of the visitor, meaning that a visitor from the UK will be sent to the UK Amazon store and a visitor from Germany to the German Amazon store.

Are you currently using something like that?

All the best,
– Stan
At first I thought he was just a helpful reader with experience in the Amazon affiliate game and reached out to provide some assistance. To be honest, I do stuff like this all the time. Oftentimes people will reach out to me for one thing and after I view their website, I end up offering all sorts of unsolicited advice. Or at least twice a week I notice something broken or that could be improved about a blog or website and I send the owner a quick note. So I thought Stan was doing the same. But then I noticed that he was e-mailing me from his @flovidy.com address so I checked out their website, which to no surprise, sells a link localizing WordPress plugin.
Was his method of cold e-mailing me shady or brilliant? I mean, let's be honest, he has no intention of purchasing the ———- product I mentioned in my blog post. I'm sure his marketing game is finding Amazon affiliates without link localizers and sending them the same e-mail with the blanks filled in on their blog post and their products. But it worked and got my attention, so respect. Plus, he's been great since then answering all my questions about their product, which their website still needs some work in my opinion getting across. I'm a technical-minded guy and so while their website says WHAT their plugin does, it doesn't go into enough detail at the moment about HOW it does it. I also recommended in one of my e-mails that he makes product comparison pages comparing his software to his biggest competitors. That would go a long way. Right now I'm waiting to hear back from Stan on an e-mail I sent him earlier today asking a few follow-up questions.
Their software installs directly onto your site and doesn't redirect traffic to their servers like Geni.us. And they work with your existing links unlike EasyAzon. Flovidy charges $69/license or $99 for 5 licenses. Other than that, I don't know anything about the company itself or the developers behind it. But I asked, and I'll update this article and let you know when I do.
Update 6-13-2017: I asked Stan a few questions via e-mail and here were his responses.
1. What's actually happening behind the scenes? If you're not referencing your own servers like Geni.us, how are you cross-referencing the product URL (USA) with the product URL (UK)? Or is it simply replacing the ".com" with ".co.uk" and the affiliate tag, which seems to work in many cases?

I will share a bit of the technical details, please let me know if there are things that you don't understand! Let's say you installed Flovidy. Once a page has loaded, it will find all the amazon.com and amzn.to links on that page. Those will be sent to the backend and then will be changed to the URLs that fit the visitor's country (if the visitor is from a country where Amazon does not exist yet, it will show the normal US links). It will change the top level domain (".com") and then it checks with Amazon if that link exists. If the product does not exist, it will create a search link.

An example:

https://www.amazon.com/Vinsic-PB206-20000mAh-Ultra-Slim-Smartphones/dp/B00ZH33Q6U/ref=as_li_ss_tl?s=wireless&ie=UTF8&qid=1490422319&sr=1-19&keywords=power+banks&linkCode=sl1&tag=exampleaffiliate-20&linkId=fe831b3ae491b8b1b77d1de36f3b7710

The link above is from your website (it was an amzn.to link, but that doesn't matter right now). When you would change the .com to .co.uk, you will see that Amazon returns a 404 page (not found). The plugin will check this and if this happens, create a search link. It will first search for 'keywords' in the URL, which you have in the URL in this case. The URL will look like this (the tag will be replaced with your UK tag of course):

https://www.amazon.co.uk/s/?keywords=power%20banks&tag=exampleaffiliate-20

If you didn't have the 'keyword' element in the URL, it would have searched for 'Vinsic PB206 20000mAh Ultra Slim Smartphones' instead, creating this link:

https://www.amazon.co.uk/s/?keywords=Vinsic%20PB206%2020000mAh%20Ultra%20Slim%20Smarthphones&tag=exampleaffiliate-20

The vast majority will work with the '.com' swapping. The rest will be changed to search links. The links are saved in your database, so they can be shown quickly and don't rely on some other server.

2. Does it work with the shortened versions of the links ie: amzn . to / abc123 (put spaces so it would not auto-hyperlink) or would I have to change my previous shortened links to the Full Link?

Yes, it does. For the USA and other countries that don't have an Amazon store, it will stay the same amzn.to URL.

3. How new is Flovidy? Who's built it and what are they're backgrounds? These are things I like to know before getting started with a software that plays such an integral role in my income.

Flovidy is now a few months old and was built by myself. Some of my friends are in the affiliate marketing business and didn't like EasyAzon. I just wanted to help them out and developed Flovidy. The much easier, simpler and lightweight solution. Now a few months later it has grown into a business. Since day one, my friends have been my beta users helping me fully debug this plugin. Right now, I have a handful of paying customers and haven't had one request for a refund.
I also have a bachelor degree and a background in software development. If it helps, I also build chiefonboarding.com.
Bestazon.io – I just learned about this software when I was Google searching "EasyAzon vs Geni.us" and this software was also being compared by someone. They charge $7/mo or $72/year. Or their software is free and you give up 3/100 of your clicks and donate the income to one of their non-profits. Personally I'd rather make the income myself and donate to the organization I choose. They say that their flat fee pays for itself if you earn more than $20 through Amazon Associates. Do they mean per day? I don't know. Either way, I'm past the threshold where I'd give up 3% of my Amazon clicks to save $7/month.
Their software impresses me because I can install their Javascript code directly into my website, no plugin required. Although they do offer a plugin if I choose. They seem to be very no-nonsense in that all they do is localize links. No statistics, analytics, or additional features are provided, which may be something I'd get value from. They're almost as expensive as Geni.us $9/month plan which seems to offer a lot more bang for your buck than JUST localizing links.
Skimlinks.com – These guys have been on the block a long time, but they are probably out of my league at the moment because it looks like an Enterprise solution. They offer a lot more than Link Localization for Amazon, which seems to be just one of many feature they offer. They take a percentage of your commissions in exchange for their services.
Viglink.com – Another service that's been around for a while. They automatically scan your website for keywords relating to products and insert affiliate links of programs that you're active in through their service (Amazon being one of many). They take 25% of your commissions in exchange for the service, however, they often place you into higher commission tiers based on their volume. This is not something I'm interested in using at the moment. For now I'm just after Amazon link localization.
Which link localization software are you going with?
I've almost ruled out EasyAzon but mostly due to some really harsh non-affiliate reviews I've read about their customer support and their software itself. Some people say it only works half the time.
Geni.us is still in the running because they seem to be all over support. I see them everywhere on forums and their software documentation is up to par. It'd be a pain to re-do every link on my site (only to have to potentially re-do it again if I don't like the service), but it'd be a one time job. They seem to be a company that's going places and it'd be nice to set things up the right way with link localization from day one. I may not need all their services now, but in the future, it'd be nice to have additional affiliate channels to localize links. Plus it adds some credibility that they are mentioned by Amazon along with Skimlinks.
BestAzon seems very straight forward, but if I'm going to spend $7 a month, why not spend $9 and get rolling with Geni.us?
Flovidy I don't know enough about yet. My opinion could change as I learn more about the longevity of the software and who's behind its development.
Skimlinks and Viglink at the moment aren't something I'm interested in. Most of my product features, reviews, and comparisons are very specific to certain products, so an automated link building solution isn't something I feel I need. It'd be different if I had a huge blog with thousands of existing posts and was starting from scratch with monetization.. either of those might come in handy. But for right now I only need to link to Amazon products or other specific affiliate programs.
What would you do?
If you're reading this and have some feedback, be my guest. I'll update this post after I make a decision.