I'm working on a new buyer guide for my website was checking out the competition that appears on the first page of Google for related search terms. Competition for a topic doesn't discourage me. I'm more concerned if there's NO competition because that often (but not always) means there's no money in it. When I see competition – I just make something better and more in depth than anyone else – or at least come at it from a different angle. I'll be doing a combination of both of those things for this next buyers guide.
Anyway, on one of the top ranked websites, what really caught my eye was HOW they were displaying the products. Their product comparison tables and product listing boxes were BEAUTIFUL. They looked like this: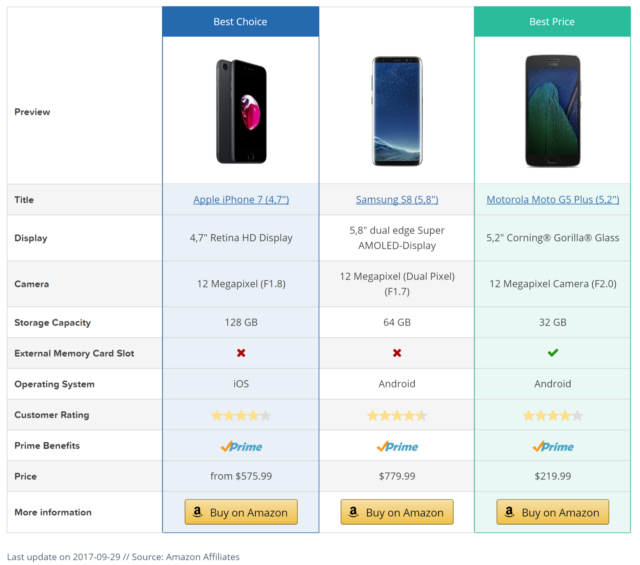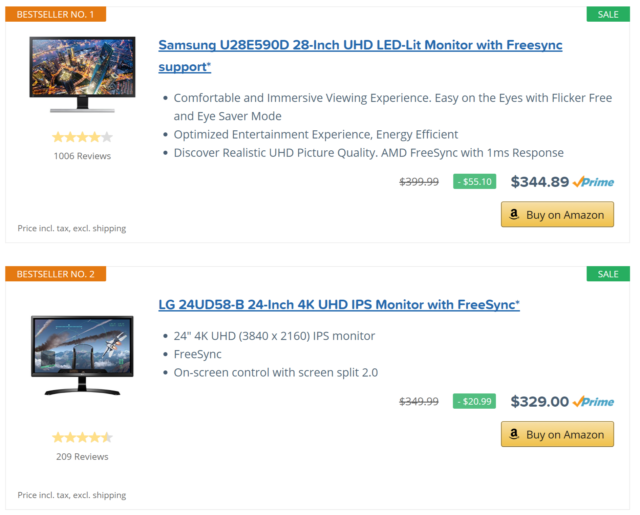 (NOTE: Those aren't screenshots from the competing website I was looking at. I snapped those from the plugin website.)
I thought to myself, "This must be a custom solution in action." So I of course right-clicked and chose "View Source" to checkout what plugins they use and saw "plugins/aawp". A quick Google search later and I come across AAWP – Amazon Affiliate for WordPress.
I read through the plugin web page and was immediately impressed. While reading the website, I felt like I was being educated about software and not patronizingly sold some magic formula for making money with Amazon like some of the competing plugins. (You probably know which ones I'm referring to.) I instantly fell in love and wanted this plugin, but I of course had to do my due diligence. If you're in the process of doing yours as well, here's what I discovered that may help you too.
Keep in mind that this is not a review. I haven't even used the software yet – but I'm about to. I just wanted to briefly make note of the information I found that led me to feel confident in this purchase:
It's recommended by Amazon Associates (EU). See here.
Positive reviewed by WPMayor here.
I searched for the plugin on Facebook to see what people in my WordPress and Affiliate Marketing groups said about it and all the mentions of it were glowing and positive. Your search results will be different because you're not in the same groups as me, but you should still search through a few groups for mentions of the plugin.
Andrew Girardin had positive things to say about the plugin. In a nutshell, he was like me and was super impressed with what he initially saw. The difference is that he's actually tried it, says it worked well, and said the developer support was great when he needed it. That's a good sign.
There were no Rip Off Reports or Scam Reports that I could find about the plugin.
The plugin's Facebook page also had no noticeable angry customers. Although I couldn't read half of it because it's written in German.
Lastly, I WANT IT! I'm very rarely excited about a WordPress plugin, but you've got to understand that I've been on the hunt for a plugin like this for a long time and most of them fall short in one way or another. I'm ready to take a risk on this one. I'll start using it on my newest upcoming buyer guides and then, if I'm happy, I'll consider going back to old articles and updating them as well.
I also joined their affiliate program, because I typically do that for every piece of software I use. So here's my affiliate link if you plan on picking up a copy yourself: Amazon Affiliate for WordPress
I'll let you know how I like it after I've gotten started using it.