I'm co-creating an online course. Originally it was going to include video interviews but we scrapped the video for audio only because the video didn't add too much value to the conversation as it was only going to be two faces with headphones talking to each other. All the video did was add headache to our process in terms of the technology involved with recording video interviews remotely, so we made the switch to audio-only. Now people can download the individual courses as MP3 and listen to them at their convenience wherever they'd like, as they would a podcast. The switch also made it easier and less pressure for the people we interview to not have to be video-ready.
Which leads me to this post. My project of the day is to find software the power my course. I've already started looking at a few, but their features vary greatly, and I have specific needs, so I need to be more organized with my note taking efforts.
Here's what I'm looking for in a course:
A fully hosted solution. If all else fails, I'll separate the e-commerce / affiliate program software from the course distribution software. However, ideally I can find an all-in-one solution. I prefer hosted and am willing to pay ore to avoid the hassles of site optimization, security, and hosting administration which are the bain of my existence as a creator.
Built-in affiliate program. Ideally I'm able to offer custom rates for different affiliates, as opposed to one flat rate that applies to all affiliates. ie: One affiliate makes 40% while another can earn 60%. I also need the ability to offer a ONE-TIME commission, not a RECURRING commission which I'm learning isn't an option on every platform.
Discount codes. The e-commerce end of the platform must accept discount codes. Those codes need the be able to be limited by number of uses or have an expiration date. Ideally I can associate a discount code with an affiliate as a way to track sales.
Audio & Video. At the beginning we're only offering audio, but I'd like the ability to have certain crash courses in video in the future without having to switch platforms just for that feature. This shouldn't be a problem as I think MOST online course software are video based. However, that being said, I need a solid audio platform with ability for user download.
Subscription membership options with monthly, annual, and lifetime options. This might present a problem but we'll see. Ultimately it comes down to user access roles and the ability to associate those with pricing tiers and subscriptions.
Front-end customization. I'm not trying to overthink this. The name of the game is getting this live. But I do want the ability to customize the front end sales pages outside of a few templates. I don't want the course looking like every other course online.
Pricing model that isn't tied to number of subscribers. I've seen a few course softwares that charge you based on your number of subscribers. That seems irrelevant. I'd rather pay for resource use if possible.
Built-in e-mail service. I need the ability to communicate with my users to announce new courses, etc. Ideally this service has e-mail campaigns and auto-sequences built-in.
Kajabi
A friend told me that this was the gold standard of course software so I started my search here. I wasn't impressed with the features vs pricing. I'd have to be on the $389/month plan in order to have the affiliate feature, and on the $899 plan to remove their branding. Really?
I do appreciate that they have built-in e-mail marketing and an affiliate program (if you pay for the higher tier). They've also got the built-in cart and hosted front-end and course. But I at this moment I can't justify the expense. I could piece together an equally effective setup for a fraction of the cost. I'm willing to pay to avoid headaches, but not $899/month.
ClickFunnels
I just called that same friend and told him that I was unimpressed with Kajabi for reasons of price and features. I asked if he had already started building out his course with it, because if not, I'd send him my notes at the end of today. Since we spoke last, his team has decided on ClickFunnels, which I've used for simple landing pages and drip campaigns, but not for powering a course. So I'm curious how the actual backend works for the membership course itself.
I have a few complaints with ClickFunnels which is in terms of their own marketing, they're TOO funnel based. Don't make me sign up for shit to find out the technical pre-sale questions I have. I can't even find the fucking price listed on their website – only the option to sign up for their free trial. I also think many of their templates are gimmicky and don't express the type of marketing I'll be doing for this project. Big arrows, countdown timers, etc. But i guess I wouldn't have to use any of those if I didn't want to.
It looks like it's divided into a few different products:
Etison Editor – for creating the webpages. It says "Don't stop there. Use it to make membership sites." But I don't see any info about that aspect which is what i'm looking for in this moment.
Click Funnels – for creating tripwires and squeeze pages. Built-in upsells, downsells, etc. Awesome, but in this moment, I'm only looking for the ability to offer a trial offer, then a subscription that's annual or yearly or lifetime. Additional features might be beneficial down the road if our marketing changes. I'm after simple marketing for a simple product because the marketing needs to be aligned with the product itself.
Actionetics – for doing follow-up funnels.
Backback – this is their affiliate system. It looks like they do offer the ability to offer custom commission rates to each individual affiliate through "Affiliate Types". In my case, I'd just have a general affiliate and one tier of higher paid affiliates. They offer the ability to have an affiliate leaderboard and have contests. I probably wouldn't do that for this program but I respect the tools.
ClickFunnels looks like it could handle the job. The only thing I noticed is that it doesn't host the video or audio. That's an expensive price tag to NOT host those elements. Granted, I could use Amazon AWS and only pay incrementally for what i use, but still. I'd love an all in one package that hosts the resources as well.
At the moment – ClickFunnels is a contender. I THINK it's $297/month but who can fucking tell without pricing listed anywhere.
SamCart
A friend of mine uses this software to power his online Spanish course. I can't remember if he just uses it for the e-commerce or for the course itself so I'm going to look.
First impression is that I like their streamlined marketing. It's more aligned with the style I'll be doing. I like be sold features for technical software and not given a sales pitch about what's possible with the software. I know what's possible with online courses and don't need my software to sell me on it. (Ahem, Click Funnels). I'm here looking for technical answers.
It doesn't look like SamCart has a built-in e-mail service so I'd have to pay for a third party service. It also says it integrates with Kajabi, WishList Member, OPMember, and MemberHouse through Zapier to create membership roles. So that answers that – this is NOT a full solution. It's just the shopping cart. But I may as well start looking at the other integration partners listed and see what's up.
WishList Member
Nope. This is not a full-hosted solution. It works with your existing WordPress site which is not what I'm interested in doing at first. Who knows…. maybe I'll have to circle back to this type of solution if I can't find what I'm looking for as a hosted solution. But for now I'm staying optimistic. The benefit to this is that it's $197/year but I'd have to find a hosting partner that can handle the load. I really hate dealing with hosting. Where's my Shopify of online courses????
OPMember
Can't even find this. Not sure what SamCart was referring to.
MemberHouse
Also a WordPress plugin but with a monthly fee instead of a yearly fee. And they charge based on the number of users. That's weird given that it's MY database and hosting affected by my increase in membership – not your software. Either way, not interested in a WP plugin right now. And if I did, I'd probably go with DAP who I already have an existing relationship with the company and can vouch for their products.
Podia
I came across this the other day when I first started looking for Kajabi alternatives. Their entire marketing message is piggy backed on Kajabi's brand and they position themselves as the best Kajabi alternative. That's fucking crazy to build an entire brand based on being an alternative to an existing brand – but it's not the first I've seen. Podia is only built because people were looking for Kajabi alternatives in the first place.
They software is priced right and look good. They offer a built-in affiliate program but only ONE rate for all affiliates. Also I just learned that they only offer RECURRING subscriptions and not ONE-TIME payments like I need. They include landing pages, email newsletters + drips, and online payments in the price. They do offer discount codes.
They offer two plans but I'd need the $79/month plan which includes the affiliate marketing and membership feature. The $39/month plan only lets you sell one-off courses.
They integrate with PayPal and Stripe which works for me.
They do host mp3 files and video files so no separate server required.
Unfortunately, the website says that One-Time Fee option is "coming soon" but that's a dealbreaker for me if not available. During our launch is the ONLY time we'll be offering Lifetime Subscriptions for one flat price. After Dec 31, 2018, we will switch to yearly / monthly plans. So I'd need that optio now. I messaged them to ask when that feature is coming. They responded and said no eta so I can't depend on that. His solution was to sell it separately using other software, and then convert into a $0 subscription plan. I had thought of that. It wouldn't be ideal, but it'd work.
I love the simplicity of Podia and the price is right, but I fear it may lack some of the features I want down the road. Still though, the price is right at $79/month for a fully hosted solution. They list their competitors at the bottom to compare their software to theirs. They list: Kajabi, Teachable, Thinkrific, Gumroad, Udemy, Clickfunnels, Learn Dash, Memberful, and Zippy Courses. I'm going to check those out.
Love the support by the way. Spencer replies within minutes via Live Chat to my questions. We spoke openly about my needs and what other options I'm comparing. He mentioned that Teachable doesn't offer a "True Membership" and rather just offers "Subscriptions on Courses" but I think that may satisfy my needs. We're basically offering audio / pdf files… new users get complete access… existing users get e-mail notifications when new courses are released. Simple model. So although what he's saying may have merit – it might be inconsequential to my needs.
Teachable
I can connect my own domain. They pride themselves on simplicity. They host the audio / video files.
They have a few unique features like Quizzes at the end of lessons to reinforce what people learn. That's cool. Discussion forums on the lessons via Comments Section. That's REAL interesting, but adds the job of moderation. Course completion certificates. I like gamification tactics and that's cool.
Student list segmentation based on enrollment, completion, code redemption, and a dozen other filters.
Coupons – dollar amount of percentage off with expiration times.
Charge a one-time fee, sell a subscription, or set up a payment plan, and offer individual or bundled courses. BAM – there it is. I need that one-time fee.
Affiliate program – just need to find out about being able to associate discount codes with affiliates and offer different commissions per affiliate. I've learned you can offer custom commission rates per affiliate. You can also combine the discount code with the link – "it's easy to create a URL that includes both the coupon code and the affiliate code." But I don't know if that means that you can associate the discount code to the affiliate WITHOUT the link, which would be necessary for IG promotions. Not a deal breaker though. They use last-touch attribution for crediting affiliate sales. I'm impressed they even list that, as most other companies I've found do not. They are obviously keen on affiliate marketing. My only concern is that they make the payments automatically, which is easier, but what if I decide to refund a purchase? Normally I'd wait 60-90 days to make affiliate payments if I offered a 30 day refund policy. Looks like they do offer a 30 day delay to allow for refunds. Good.
Is the commission paid on the first sale or recurring? I only want to pay commissions on the first sale.
Paypal and Stripe integration.
Does Teachable offer built-in e-mail service? I don't know. Yes it seems they do. Just need more info about that
Pricing: Starting at $39/month then $99/month then $299/month. Looks like I'd be on the $99/month plan to have the advanced theme customization and unbranded site. Crazy though because those are the only two things that would matter. The $39/month charges a 5% transaction fee but when starting out, that may be cheaper than the $99/month which charges no transaction fee. Let's do the math. If my average order is $50, that's $2.50/transaction. So I'd spend less on the $99/month plan after 24 sales. Okay, I definitely plan on selling more than 24 courses per month so sounds like the $99/plan is the way to go.
Pat Flynn's on the website endorsing it. That's cool.
I just e-mailed them to find out about the affiliate question and whether I can offer a one-time commission or if I have to do recurring.
Update: Creating Trial Account
I'm leaning towards Teachable. I still haven't determined if I can only pay one time commissions, but perhaps I could just adjust my super high commission for a lower commission that's recurring. Affiliates love recurring commissions so it wouldn't be the end of the world. I just don't want to change my business model to fit software. It should do what I want. I'm coming across a few weird things to note as I'm making a quick test course.
1. I can't charge in cents. Meaning, I have to charge $10 for a course instead of $9.99. WTF is that about? It's my course and I should be able to charge $7.65 if I want. How dare you?
2.Oh God I hate this backend. I thought I could customize the look and feel of my site?? It looks like every other Teachable site. Don't list my course modules on the front page!
I'm realizing at this moment that I may require the customizations that I've grown accustomed to as a developer. Fuck! Am I about to switch to a self hosted platform and use a WordPress membership plugin? Uh oh. After all that I said against it.. is that about to happen? Hmm….
Update: Teachable e-mailed me back about my pre-sale question regarding one-time commissions: "At this time disabling the recurring commission for affiliates is not a native feature and I'm sorry for any inconvenience this may cause! However, one possible work around is to set up your affiliates and then assign them a commission of 0% and then handle the payout outside of our platform. This way you can still track affiliate sales through Teachable but have the freedom to set up your own one-time commissions on subscription sales."
Thinkrific
This immediately looks promising and appears to have a similar core offering to Teachable. I'd be a candidate for the Business Plan at $99/month.
Fully hosted audio / video files.
Ability to have custom pages on website like FAQ, About, etc.
Certificates of completion to students.
Deliver your courses for free, or generate revenue with single priced courses, bundled offers, or monthly subscriptions. You can also offer students full flexibility with payment plans, free trials, and coupons.
Payments are directly to me, not them.
Coupons – Configure discounts, set quantities, expiry dates. You can do things like "100% off first month." as a way to offer free trials. You can also add coupons to the URL for automatic usage.
Affiliate program: Can do custom affiliate rate. % or % based. 30 day cookies. Once the student signs up and the association is established on the user's profile, the cookie is redundant and the affiliate will receive credit for any future purchases. If a student coming to your site via an affiliate link had previously created an account or made a purchase, before clicking on the affiliate link, any new purchases made will not be associated with the affiliate. This is true regardless of whether or not the student was previously associated to any affiliate or not. If they had previously made an account they cannot be counted toward a new affiliate. You can't manually credit affiliate sales though. You can still use our affiliates system with external landing pages. This would require some javascript to be added to your external landing page site so that the affiliate's referral code is picked up on by your external site and sent over to Thinkific.
E-mail campaigns – need more info
Holy shit, they might have sold me right here… Check out this screenshot of one of their support pages below. Look at the names they used! hahahahaha. +10 points for Thinkrific for being awesome.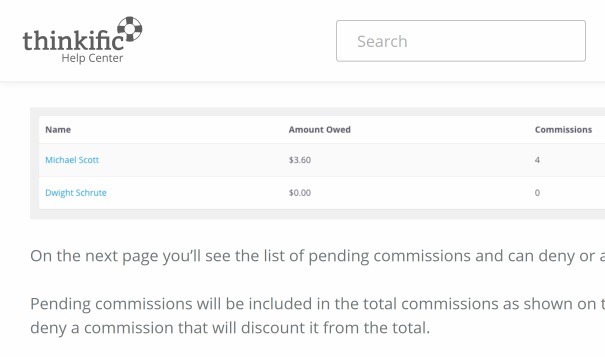 Sales Widgets – This is a cool feature that lets you put widgets on any website to sell your courses or do lead gen. You can also associate these widgets to affiliates. Probably would never use that but cool feature.
Do they not do Annual Subscriptions? I'm only seeing One Time Payment or Monthly. Found it: "Subscriptions are based on months, but you have the flexibility to charge every month, every year, or anywhere in between!"
Thoughts: Seems like a viable option but I have nothing pressing me to go with this over Teachable since they are the same price.
Update 7-7-2018: Might come back to this one now that Teachable responded and don't do the one-time fees. Also I had signed up for the trial of Teachable and hate that I can't do anything with the website. My Teachable site looks like every other Teachable site.
Gumroad
More similar to SamCart in that it's just a shopping cart. I'd have to house the course itself elsewhere, so not an option.
LearnDash
This is a WordPress solution and not what I'm looking for at this moment.
Memberful
Another WordPress solution. Not interested.
Zippy Courses
They say they're all in one. "The best of sales and teaching solutions." But not enough information is provided on the website to make a decision. They're trying to be all exclusive and say "Request an Invite" but in my opinion they don't give me enough information to entice me to even want an invite. So I'm ruling this one out right now.
So far, Teachable is looking like the best solution although not perfect. So I'm now going to search Teachable alternatives and see what pops up. As well as a few more general course software Google searches.
Zenlar
They don't charge a monthly fee but instead charge 10% + $1 per sale. Absolutely not, under no circumstances can any company take 10% of my sales for doing the equivalent of a $99/month software. I understand if you're a hobbyist or putting out your first course how that might be attractive, but wont work for me for this project.
Pathwright
Looks legit but overkill for my needs. This looks like it's for creating entire online schools.
Open Learning
Looks more like a Udemy alternative than a Teachable alternative.
Mindflash
This is an enterprise solution for providing training to employees and contractors. Not for me.
Digital Chalk
No affiliate program integrated.
Versal
Enterprise solution for brands to do product tutorials, employee training, etc.
Eliademy
More of a Udemy alternative than self hosted course software.
CourseCraft
Very simplified course creation software. Absolutely not enough documentation about technical aspects of features. I can tell from the design of the website that it's a smaller company. I can't even entertain the idea of using this software as I'd have to pour through Help section or e-mail support with all my questions. Not a fit for me.
Wiziq
This is online classroom software for doing like live video classes and stuff. Not for me.
Teachery
This is a legit alternative to Teachable. They only offer one product offering for $47/mo or $470/year so easy decision. Now let's see if they can do what I need.
No Paypal payments because they say it's terrible to work with PayPal. Seems like a cop out. Get it together.
Zapier integrations.
They don't host audio and video.
Affiliates who refer new customers to Recurring Payment Page will earn commission on all recurring revenue. In the case of a monthly recurring payment page, for example, the affiliate's fee will be applied every month for as long as the customer they referred is subscribed.
Whatever. I'm stopping here. Since I'm not looking for a budget solution, their $47/month doesn't attract me. I'd rather pay more and get what I need.
Braincert
Full fledged classroom setup. Not interested.
Academy of Mine
They have some cool features like Gamification but i can't immediately understand if this is a hosted solution or if i need WordPress. Well, just saw that their demo courses are built on Divi child themes so that rules this out for me.
Am I being crazy for not hosting this myself?
Let me step back for a second and think… I could pay for a managed hosting solution and avoid the headache of hosting, maintenance, and optimization. Then I could use software like DAP or one of those other WordPress membership plugins. Then I'd have to integrate with a payment processor. Get a proper SSL certificate to handle e-commerce. Then if I need support I'd have to contact my payment processor, software provider, host… I'm already talking myself out of it again. I've hosted 100s of website and it's a job that sucks. This needs to work well out of the box. FUck it, i'm over hosting my own solution again.
Can Shopify handle this?
I love Shopify but they aren't made for this out of the box. However, I'm very familiar with Shopify and affiliate marketing apps that work with Shopify. The actual course membership area is the easiest part of this business. All my technical requests are about the affiliate program which i could integrate a 3rd party program that I know works. Let me see what options exist for Shopify. Off the top of my head I'm thinking something like Shopify + Recharge + Affiliatly + E-mail Service.
Short Answer: Nope. The only benefit to Shopify in this case is their superior hosting, but this isn't an e-commerce store, it's a membership site. If I were to piece together a Shopify setup for a membership site, I might as well just find a good WordPress host and run DAP or comparable.
Should I host my course on Udemy or an alternative?
My partner Stephanie asked me if we should host our membership on Udemy, and I can't say that it hadn't crossed my mind.
Pros for Udemy
Big community that could potentially generate sales through earning reviews on their platform
It works well.
Built in affiliate program and affiliates ready to promote courses.
Cons for Udemy
No control over anything.
Business built entirely on someone else's marketplace.
No control over affiliate program.
Pretty much bringing people to your course so they can find a thousand others.
Udemy has been known to change their policies for instructors… big drastic changes over night.
At least if I was on Teachable or something, and they decided to fuck me over with a big change, I could migrate my userbase, affiliates, and courses over to a different platform. It'd be a big pain in the ass and switching would be really annoying, but it's possible. Obviously I want the best solution from day one.
So the idea of publishing this particular project on Udemy is out.
Is there something else I'm not thinking of that would work for me?
Do I even need membership or course software for this project? Ultimately the product we're offering is mp3 files and PDF documents for the transcription (or the transcription could be hosted on the audio page itself). It seems like my biggest hassle is the affiliate program and integrated e-mail service. What if I just built this as a simple Stripe recurring payment, integrated an affiliate program, and delivered the actual mp3s and PDFs in a different way – such as via e-mail?
Immediately I think that it's better to have a system that people can login to after they purchase. It's more professional. Then each audio file can have it's own separate course / lesson page. People can play within the interface or download the mp3.
Alright. So let's say I go with Teachable. Let me reread my notes here and see what I may have to sacrifice in order to utilize their service. Then I'm going to start a trial.
Other Software To Check out
https://www.freshmember.com
MAJOR UPDATE 7-7-2018: Hosted platforms won't cut it
I've become really disenfranchised with the idea of finding a hosted solution. It might be that I want too much control over how my website looks, feels, and functions and these out-of-box solutions just aren't built for that level of customization (although they advertise that they are). I have specifications for how I need my website to function in terms of layout, page hierarchy, SEO, design, sales funnel, etc. And so I quit looking. I'm going to do the thing that I ideally didn't want to do which is build my own membership website using WordPress + Divi + WordPress Membership Software (not sure which one yet) + Merchant Processor + Host + SSL Certificate + Possibly a 3rd Party Affiliate Software + E-mail Service. But sometimes you got to do what you got to do. So here goes this next stage of research…
See Next: WordPress Membership Plugin Research